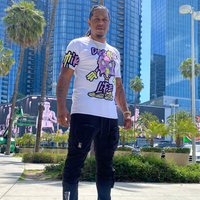 About Emoedagreat
EmoeDaGreat born Eric Lattimore from Gaffney, South Carolina, has always had a thriving passion for music. "Music is my way of life." He said. Recently moving to Los Angeles to pursue his career.
EmoeDaGreat knows that he has what it takes to be number one on billboard. Dropping his first solo single "No Kap" one of many hits off the upcoming album Bugatti Truck Music, which will be set for release in 2020. "I am going to shock the world. This will be the best album ever."
EmoeDaGreat does a combination of Rap, RnB, Pop, and Hip Hop with a soulful vibe on banging tracks. "I can create any type of music. I want to be the first artist to have a number one hit in every genre.